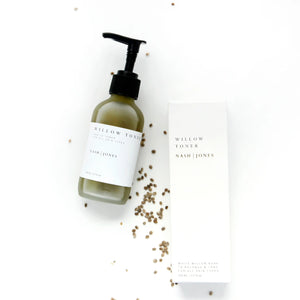 Where health meets beauty.  White Willow Bark, Aloe, and Bilberry Fruit (and more!) mingle to balance & tone your skin for maximum health and beauty.  Formulated to suit all skin types.  Toners help the skin by balancing the pH, minimizing the look of pores, and removing residuals missed during cleansing, while preparing the skin to receive hydration from serums and moisturizers.
Willow Bark extract is packed with skin-enhancing vitamins and minerals. It contains Salicin (where salicylic acid comes from).  This dynamic ingredient is a powerhouse anti-inflammatory, amazing for clearing up acne and soothing irritation. It's also a natural exfoliant, making easy work of blocked pores, penetrating them and obliterating the gluey mix of sebum and dead skin cells.
3.9oz in a frosted glass bottle with pump. Packaged in a luxurious triple-thick super soft touch box with gold foil logo.  Made in the USA.
Ingredients: Organic Aloe Leaf Juice, Organic Alcohol, Organic Glycerin, Organic Peppermint Leaf Extract, Organic White Willow Bark Extract, Organic Sugar Cane Extract, Organic Bilberry Fruit Extract, Organic Sugar Maple Extract, Organic Orange Peel Extract, Organic Lemon Peel Extract, Organic Cranberry Fruit Extract