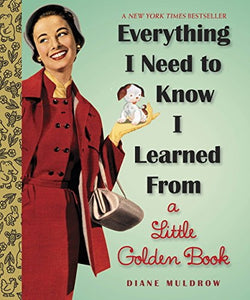 A humorous "guide to life" for grown-ups!
One day, Diane Muldrow, a longtime editor of the iconic Little Golden Books, realized that, despite their whimsical appearance, there was hardly a real-life situation that hadn't been covered in the more than 70-year-old line of children's books - from managing money, to the importance of exercise, to finding contentment in the simplest things. In this age of debt, depression, and diabetes, could we adults use a refresher course in the gentle lessons from these adorable books, she wondered - a "Little Golden guide to life"? Yes, we could!
Muldrow's humorous yet practical tips for getting the most out of life ("Don't forget to enjoy your wedding!" "Be a hugger." "Sweatpants are bad for morale."), drawn from more than 60 stories, are paired with delightful images from these best-loved children's books of all time.
Hardcover.  96 pages.