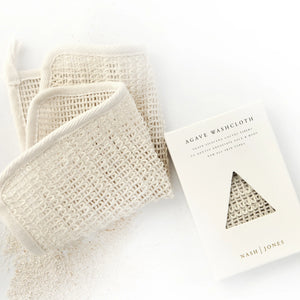 Woven from natural Agave Sisalana Cactus plant fibers, this divine washcloth gently exfoliates sensitive skin on your face and body.  Agave Sisalana Cactus plant fibers aturally possess anti-microbial and mold-resistant properties so you stay fresh with confidence. 
Agave-fiber cloth.  3.5" l x 5.3" w x 1" h.
USE: Soften cloth with warm water. Use with soap/water to invigorate and soften skin, expose fresh skin cells, and help stimulate circulation for the growth of new cells.
CARE: Machine washable.  Air dry.  Loop sewn on for easy hang drying. Re-shape when wet, if necessary.