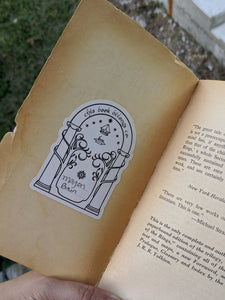 Whether you're looking for a true bookplate or simply a sticker, speak friend to enter. This charming replica of Durin's Door, a lso known as the West-gate, the West-door of Moria, or Elven Door, is a magical entry sealed with a riddle and guarded by monsters, and it is an entry which forever alters the future of the Fellowship of the Ring.  Venture into the unknown with this charming bookplate.
Made from thick, durable, and waterproof vinyl. (Though hopefully your books won't be getting wet.)
Made in United States of America
Vinyl.  3" l x 2" w.